Theresa May's Brexit speech and her declaration that Article 50 would be triggered by the end of March sent the pound to a three-year low against the euro and pulled it sharply lower against the dollar on Monday, coming within striking distance of its lowest level in three decades. Where next for sterling?
How significant is this latest sterling slide?
After the pound's dramatic post-Brexit vote fall, it appeared to be stabilising, thanks to the Bank of England's monetary easing decisions in August and surprisingly upbeat economic data. Since the start of September, the pound has been trending lower, as much influenced by a stronger dollar than domestic factors, but holding its own at about $1.30. Market commentators have described the months after the referendum result as something of a phoney war for sterling. But Monday's fall was testing the $1.28 low of July 6, so the phoney war may be nearing its end now that the market has a date for the UK triggering an official exit from the EU.
So this may be a turning point for sterling?
The importance of Article 50 notification is that it puts Brexit negotiations "front and centre of the market's mind and this focuses investors in on these above challenges", says Dominic Bunning, FX strategist at HSBC. Yet even though market participants have seen it as a key milestone, expectations about the date for triggering Article 50 have been heightened ever since the referendum. So one would expect the market to price in the date.
But as G10 FX strategist Adam Cole at RBC Capital Markets suggests, there may have been a significant minority of investors who believed either that Article 50 would never be triggered or would not be triggered for some time. "So the hard deadline of end-March is significant negative news to anyone holding that view," he says.
As market blogger BlondeMoney put it: "Did you think the UK was just joking?"
You need JavaScript active on your browser in order to see this video.
What's the counterview?
That the market sells sterling only when a known fact is officially declared, says Neil Mellor at BNY Mellon. This may also be a "reactive" market, which has been fixated on other things, such as the hunt for yield, he adds.
What down the line could influence sterling's direction?
The government's Autumn Statement on November 23. This is when UK chancellor Philip Hammond lays out the government's spending priorities. He and BoE governor Mark Carney are working closely to ensure monetary and fiscal stimulus are supporting UK growth, so after the central bank's easing measures of August 4, it is the turn of the government to show its hand.
The market will also have an eye on further BoE action, as well as data that provide further evidence of the Brexit vote's impact on the economy. Watch out for third quarter GDP estimates at the end of October, which will influence the BoE's meeting in mid-November. So far, Brexit's impact has been surprisingly minimal, underlined by data published on Monday on manufacturing activity for September, which recorded a two-year high.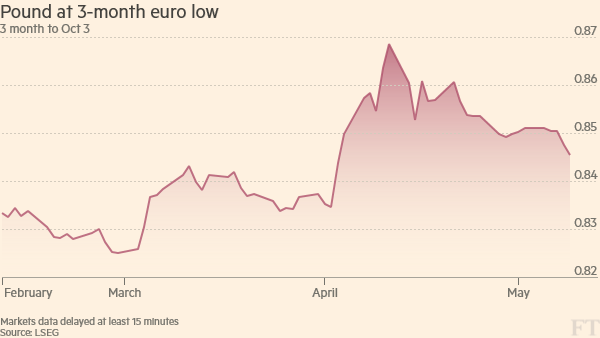 So more good economic data could trigger a sterling rally?
Up to a point. In the absence of further political developments, good economic news should support the pound. But politics is likely to be the dominant driver in the medium term and will more often than not crowd out other influences on the currency. It was telling that the pound fell despite that "very good" manufacturing data, says Nomura's FX strategist Charles St Arnaud.
"Market participants understand that while Brexit has been voted, it has yet to be started. As a result the impact on growth remains, mainly due to the uncertainty," he says.
Sterling hits 3-year euro low as May sets Brexit start date
Fears of a 'hard' exit follow rhetoric at Conservative party conference
In the short term, the political front may be quiet until Article 50 is actually triggered, says Mr Cole. "But at that point, I think politics trumps economics and sterling is still very vulnerable to the exit process being uglier and more drawn out than assumed," he says.
Does the market think the UK is heading for Hard Brexit or Soft Brexit?
It really has no idea, only that it does not like not knowing. But according to Mr St Arnaud, "the probability of a Hard Brexit has increased", and Mr Cole believes sterling's fall is in part the market concluding from Mrs May's comments that a UK exit from the single market may be unavoidable.
"Relative to what was in the price previously, this is also negative news and will leave markets fretting about the financial services passport in particular," he says.
Sterling is vulnerable because of the UK's big current account deficit, which leaves it relying on foreign capital inflows for debt servicing. "The fall in sterling still reflects the market's concerns over the UK's structural imbalances, which are only going to face greater pressure given the uncertainty over negotiations once Article 50 is signed," says Mr Bunning.