©Bloomberg
The pound hit a three-year low against the euro on Monday after the UK identified the deadline by which it would start the process of exiting the EU.
Sterling was left exposed after Theresa May, prime minister, told the Conservative party conference over the weekend that Britain would trigger Article 50, the official legal notification that would formally begin negotiations with the remaining EU powers, "no later than the end of March". That set the UK up to leave the EU by 2019.
The pound was 0.9 per cent weaker against the euro, with as much as £0.8742 needed to buy a unit of the single currency, a level not touched since 2013. Against the dollar, sterling was down 0.8 per cent at $1.2880, its lowest level since August 15.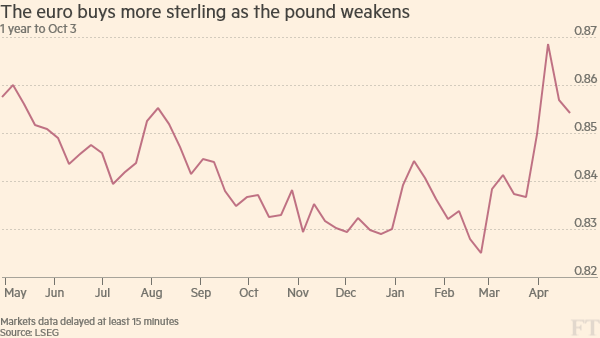 Kit Juckes at Société Générale described the date as bringing "a bit of clarity, but not much joy" for the pound.
"Disappointment for those clinging to the hope that it would never happen, or one of the many layers of uncertainty plaguing sterling assets removed? You could read it either way," he said.
"I'm slightly surprised the pound hasn't bounced from its fall yesterday evening, but not surprised enough to prevent me being bearish long term," Mr Juckes added.
Data from the Commodity Futures Trading Commission showed that hedge funds nearly doubled their net short positions on the UK currency to $5bn in the week to September 27 from the previous week, "as bearish sentiment towards sterling re-emerged," ANZ Banking Group noted. That ended four straight weeks of net buying of the pound.
Monday's heavy pressure on the pound also came on concern that the tone of the recent rhetoric from members of the government was pointing to a so-called hard Brexit, where the UK's access to the European single market would be limited under the terms of its departure from the EU.
"It seems as if we are heading for a hard Brexit, as Theresa May revealed that control of immigration is the most important issue," said Mikael Olai Milhøj, senior analyst at Danske Bank.
"She said that the UK is 'not leaving the EU only to give up control of immigration again'. Interpreted literally, this implies the UK leaving the single market because EU leaders have said access to the single market means that the UK has to accept free movement of labour.
"This is likely to imply that UK financial institutions would lose the current passport access to the European internal market for financial services."