©EPA
Royal Bank of Scotland is to rename its investment bank as part of plans to comply with so-called "ringfencing" regulation designed to protect taxpayers from ever having to bail out a bank again.
Lenders with more than £25bn of deposits must hive off their consumer-facing business from riskier investment banking activities under the rules, which come into force in 2019.
RBS said on Friday it will place the bulk of its UK and western European banking business within the ringfence by the end of 2018.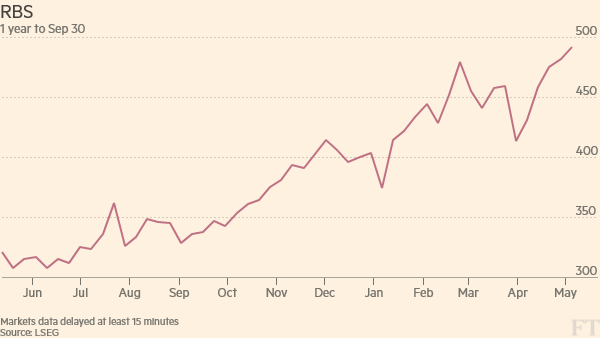 In order to achieve this, a holding company will be created — called NatWest Holdings — for the ringfenced banks, at the start of next year.
This will comprise RBS' personal, private, business and commercial customers, and the NatWest, Coutts and two Ulster bank divisions.
Three divisions will sit outside of the ringfence, including the investment bank, which will be renamed NatWest Markets, as well as its Jersey and Isle of Man bank.
The new ringfenced group and the non-ringfenced division will sit underneath Royal Bank of Scotland, which will remain the group holding company.
The plan will involve shifting personal, private, business and commercial customers across its legal entities, in mid-2018. The investment bank will be renamed at the same time.
NatWest will become the main brand in England, Wales and western Europe, while Royal Bank of Scotland will remain the core brand in Scotland.
Ross McEwan, chief executive of the bank, said: "Our proposed future structure under the ringfencing legislation and our brand strategy are key elements of the bank we are becoming.
"The future ringfenced structure of the bank is not only designed to be in compliance with the new regulatory requirements and objectives but will better reflect who we are as a bank and what we stand for: a bank that is focused on its customers."