©Reuters
Deutsche Bank's chief executive has hit out at "forces in the market" seeking to undermine Germany's biggest lender, as its share price dropped to a fresh 33-year low on Friday morning.
John Cryan wrote to Deutsche Bank staff to insist the bank had "strong foundations", and called on employees to ensure that any "distorted perception from outside" did not affect the bank's daily business.
"In banking, trust is the basis of everything. There are currently some forces at play in the market that want to weaken this trust in us," he wrote.
Deutsche Bank's share price opened the day with a drop of almost 9 per cent, pushing the stock to €9.90, its lowest since 1983. It later pared losses and was off 3.9 per cent to €10.45 at midday in Europe.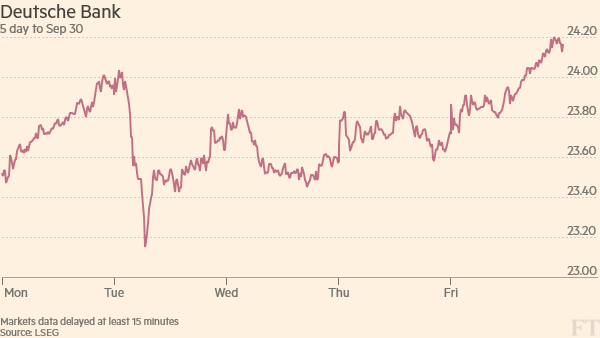 The sharp fall followed news that a number of hedge funds had begun to pull business from Deutsche Bank, a move that could set up a showdown with German authorities over the future of the company.
Mr Cryan said reports of reduced client activity had caused "unjustified concerns".
"I understand if you feel concerned by the extensive coverage on this issue. Our bank has become subject to speculation. Ongoing rumours are causing significant swings in our stock price."
Deutsche Bank's US-listed shares fell 6.7 per cent overnight, while the price of the bank's €1.75bn of contingent convertible bonds, its riskiest form of debt, sank as much as 7 per cent to a record low of 69.97 cents on the euro early on Friday.
Deutsche Bank has become the focus of growing anxiety about the health of Europe's banking system after the US Department of Justice told the bank it was seeking $14bn for mis-selling mortgage-backed securities.
However, Mr Cryan pointed out that other banks had reached far lower settlements with the DoJ in the past.
"Even the uncertainty over the outcome of our legal process in the US is not a reason for the pressure on our share price, if we take the settlements of our peers as a benchmark," he wrote.
Excluding one-off costs, the bank had made a pre-tax profit of €1.7bn in the first half of the year, he added, drawing attention to the strength of Deutsche Bank's liquidity reserves, which stand at €215bn.
While Deutsche Bank has said it does not expect to pay a figure anywhere near the $14bn demanded, the DoJ is pushing to agree a trio of settlements ahead of the US election in November.
Worries about Deutsche Bank and the broader state of European banking were likely to remain front and centre for markets, said Marc Ostwald, strategist at ADM Investor Services, but any comparisons with the demise of Lehman Brothers were "off target".
"Deutsche is a huge deposit taker — close to €600bn — [it] is very clearly too big to fail, and has access to all the ECB funding facilities that have been established since the financial crisis," he said.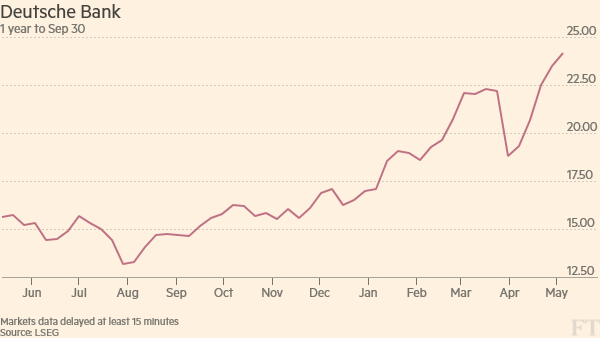 Concerns about Deutsche Bank have sent ripples through financial markets round the world, and contributed to a 1.6 per cent fall in US stocks on Thursday.
On Friday morning, the Euro Stoxx banks index slipped 3.6 per cent, with Barclays and Royal Bank of Scotland down by more than 3 per cent. In Paris, BNP Paribas dropped 3.9 per cent, Société Générale lost 4.2 per cent, and Italy's UniCredit 5 per cent.
Koon Chow, strategist at UBP, played down the potential fallout from the Deutsche Bank problems, saying: "I think as a potential systemic risk factor, the DB spillover is probably going to be limited as their level of fines could be reduced, particularly given the importance of the bank to the global banking system."
This week the German finance ministry denied reports it was working on a rescue package for the bank, which has seen its share prices drop more than half so far this year.
Official concern about the state of European banks was highlighted on Thursday by the EU's bank regulation chief who warned that Brussels was prepared to reject international plans to toughen bank capital regulations if they placed an excessive burden on the sector.
The pressure facing German banks in particular was further underlined as Commerzbank, the second-biggest lender, unveiled plans to cut 9,600 jobs and scrap its dividend "for the time being" to boost its flagging profitability. Commerzbank shares dropped more than 7 per cent on Friday morning.
Richard Hunter at investment house Wilson King said: "The problems at these banks come at a time when the German economy is actually in rude health and their situation is therefore somewhat counter-intuitive."
Reporting by Michael Hunter, Martin Arnold, Laura Noonan, Barney Jopson, Josh Noble and James Shotter.