©AFP
Global oil and commodity stocks surged in the wake of Opec producers agreeing to cut output for the first time in eight years.
An overnight rally in commodity-linked currencies cooled in European trade on Thursday as analysts voiced doubts about the finer points of the accord and even its prospects of developing into a full deal.
Nonetheless, there was plenty of room for oil stocks to rally. The European sector picked up the baton from Asia and the US, with the Oil and Gas Producers index up by around 3 per cent.
Tullow Oil was the best performing stock on the pan-regional Stoxx 600 index with a bounce of more than 6 per cent. Royal Dutch Shell strode to top London's FTSE 100 with a 5.5 per cent gain, outpacing the wider index's 1.1 per cent advance. BP rose 4.6 per cent. That came after the US S&P 500 energy sector advanced 4.3 per cent on Wednesday, its best one-day gain since January.
"At the very least, the Opec statement likely triggered a short covering rally," said Jason Gammel, equity analyst at Jefferies.
"[It] could be another attempt to support near-term oil prices without actually reducing supply; if the market returns to balance towards the end of the year, as we expect, this could be an effective tactic."
The oil sector also led the way in Asia. On Japan's Topix Oil & Coal Production index, the best performers were Fuji Oil Cosmo Energy Holdings and JX Holdings, a holding company for a number of subsidiaries in exploration and production.
While oil-linked currencies rallied sharply as news of the deal initially reverberated around dealing rooms, they subsequently cooled again on Thursday morning.
The Canadian dollar touched a five-day high overnight before easing, while Norway's krone rose 1 per cent against the dollar, as did Russia's rouble.
There had been hope and scepticism in equal measure leading to this week's meeting in Algeria, particularly due to divisions between Saudi Arabia and Iran, two of the group's largest and most influential members.
That uncertainty had seen oil prices rise or fall by at least 2 per cent per day over the past week. Brent crude eased back from a high of $40.09 a barrel early on Thursday.
The lack of specific detail on how much each Opec member will limit their output is likely to keep an element of uncertainty among market watchers as to whether this deal will be successfully executed and how it will ease the state of oversupply.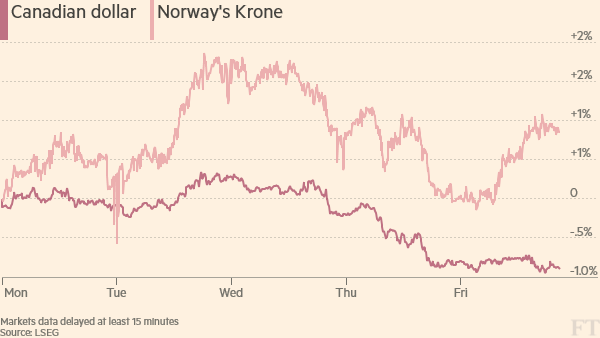 Marc Ostwald at ADM Investor Services said the accord looked like "more a case of putting a floor under oil prices, rather than the prompt for a major rally".
He continued: "It should be borne in mind that production will be falling in coming months due to seasonal factors, with Saudi output needing to be dropping close to 10m barrels to suggest that a real effort is being made to dampen output."