©Reuters
Deutsche Bank's share price hit a new three-decade low and German Landesbank NordLB postponed a bond sale on Tuesday, amid a renewed bout of investor jitters over the state of the European banking sector.
Deutsche's shares fell 3 per cent, hitting levels not seen since the early 1980s, before recovering to close flat amid broader selling of European banking stocks. UniCredit closed down 1.8 per cent while Barclays was down 1.3 per cent.
The market concerns contributed to NordLB, one of Germany's five remaining big Landesbanken, postponing the sale of a seven-year senior unsecured bond. Banks frequently sell senior unsecured bonds in capital markets as one way of funding the loans they make.
NordLB, which is under pressure given its exposure to the shipping market, told investors that "due to current market conditions" it had decided not to go ahead with the sale of the bond but added that it would "re-engage" with investors in future.
The cancellation followed Lufthansa, the German airline, pulling a bond sale on Monday, also citing market conditions.
Investors have sold European banking stocks and debt this week, amid mounting fears about the capital position of Deutsche — which faces the prospect of a large settlement with US authorities over allegations of mis-selling mortgage-backed securities.
Deutsche's riskiest bonds dropped more than 2 per cent to edge closer to the lows they touched in February, with a €1.75bn contingent convertible, or coco, bond trading at 71.5 cents on the euro before later recovering to rise slightly on the day.
"Deutsche Bank is reminding people of January, February time and they're being a bit more risk averse," said Chris Telfer, a portfolio manager at ECM Asset Management, referring to the brutal sell off in banking stocks at the beginning of the year, prompted in part by concerns that Deutsche might miss payments on some of its riskiest debt.
"You've got the US presidential election, the Italian referendum, Portugal's rating . . . you've got Monte dei Paschi issues and Deutsche Bank's fine."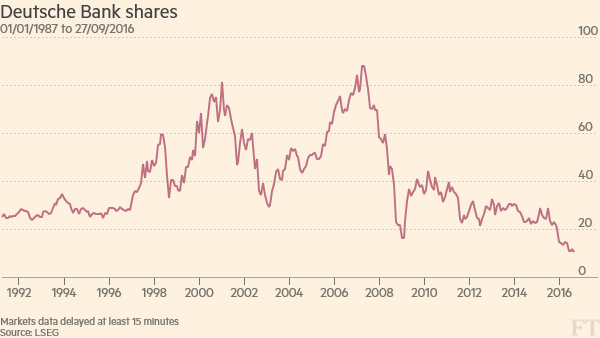 Concerns about Deutsche's capital strength have intensified in recent weeks after the US Department of Justice made an unexpectedly high opening request of $14bn from the German bank to resolve the allegations of mis-selling.
Deutsche insists it has no intention of paying anywhere near this amount, which is more than double the €5.5bn in provisions it has set aside to deal with its legal entanglements, which also include investigations into €10bn of potentially suspicious transactions involving its Russian business.
Deutsche's efforts to reassure investors took a blow over the weekend, however, after a German magazine claimed that Chancellor Angela Merkel had ruled out intervening in Deutsche's stand-off with the DoJ, or rescuing the bank ahead of elections in Germany next year.
On Tuesday Ms Merkel declined to comment directly on the possibility of state aid for Deutsche. However, Andreas Dombret, a board member of Germany's Bundesbank, said in a speech in Vienna — without referring to Deutsche — that "political support for the banking sector must finally stop".
Deutsche said on Monday that it had not asked Ms Merkel to intercede on its behalf in the US and that neither a capital increase nor a state bailout was on its agenda.
Additional reporting by Stefan Wagstyl in Berlin and Claire Jones in Frankfurt