©Reuters
Here are the key questions for markets and investors this week.
Will the US presidential debate spark a significant market reaction?
When US and global audiences tune in to Monday's televised presidential debate, currency traders in Asia are likely to lead the way. Donald Trump's bashing of trade deals and recent rise in polls has duly pressured the Mexican peso, while the Canadian dollar is also viewed in a vulnerable light.
Simon Derrick of Bank of New York Mellon says the dollar has often reacted on debate nights down the years. "The evidence from 1976, 1980 and 2000 campaigns is of particular interest, although almost all the elections have something worthy of note."
But the most sensitive, transparent gauge, say analysts, will be the dollar-yen market.
Last week's Bank of Japan meeting was dramatic enough, and should in theory have moved the dollar/yen needle more than it did. The reason it didn't, say forex analysts, is that everyone is terrified of a big yen spike against the dollar on Monday (Tuesday in Tokyo) if Donald Trump bests Hillary Clinton in their first verbal skirmish.
The underlying assumption behind trading is that the raised speculation of a Trump victory will weaken the dollar against the yen as the biggest Japanese investors bet on instability. The central actors in this, says Nomura's Yunosuke Ikeda, will be the Japanese life insurers, their $600bn stash of dollar assets and a hedging policy that rises and falls with their perception of global risk. At the height of the global financial crisis, the lifers' hedging ratio spiked to about 80 per cent.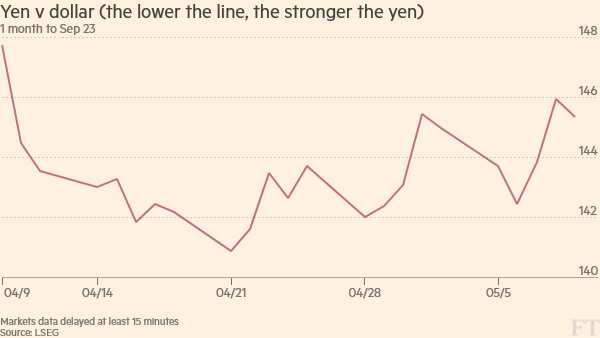 At present it stands at about 60 per cent, but if the tone of the debate appears to favour Mr Trump, the ratio could start to ascend quickly, pushing the hedging ratio back towards the previous ceiling of 80 per cent, resulting in a much stronger yen.
Will oil prices rise after the Algiers conference?
Brent crude has traded between $45 and $50 a barrel during September, the type of narrow range that ultimately breaks open with a big shift in direction. Plenty rides on oil producers soothing concerns that a supply glut will be addressed.
Saudi Arabia is backing a co-ordinated production cut of up to 1m barrels a day if Iran agrees to freeze output at the level it pumped in August. However, Iran has said publicly its output has risen to 3.8m b/d and that it believes it has a right to regain its production level of at least 4m b/d. Brent slid nearly 4 per cent on Friday and closed out last week at less than $46 a barrel, indicating growing doubts over any production deal.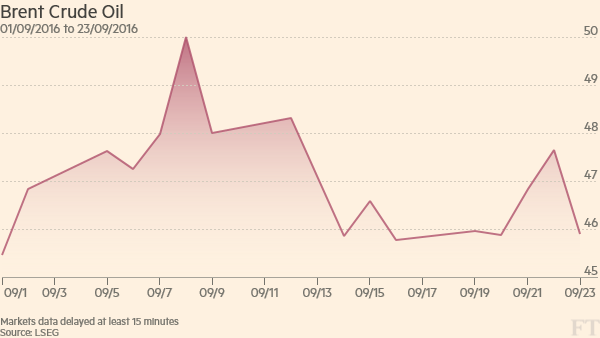 How far can market bulls charge?
Last week's big central bank meetings reinvigorated risk appetite. After a pullback on Friday, the final week of the month and the third quarter may spur performance chasing. With the Fed not seen in play until the December meeting, the window remains open for investors to stick with winners such as emerging markets. Whether laggards such as European equities find favour remains an open question..
How much further can international demand for emerging market assets rise?
After a week in which Argentina and Russia launched new sovereign bonds in euros and dollars respectively, many investors pointed to the attractiveness of emerging market debt in comparison to bond markets heavily distorted by central bank purchases.
Overall issuance of emerging market sovereign debt is on track to set records this year. In euros, total sovereign emerging market issuance for 2016 is now at $28bn, according to Dealogic — matching the previous annual record. However, the asset class is still exposed to US monetary policy, commodity prices and broader risk appetite.
The question is whether asset managers will further shift into emerging market debt and away from negative-yielding developed market bonds, or whether the threat of shifting monetary policy is still not severe enough to push investors elsewhere. Helping grease the wheels, the latest weekly inflow of $1.5bn into EM bond funds was the 12th in a row, and largest in five weeks.
What happens when the Bank of England starts buying corporate debt?
This week the Bank of England will launch its latest scheme to reinforce Britain's economy by buying corporate bonds. The bank's plan is to lower the cost of finance so companies will begin to borrow, invest and spend.
On Tuesday it will hold its first "reverse auction" where it asks traders and investors to offer prices. The bank will start buying bonds of energy, transport and water businesses, followed by consumer-focused companies on Wednesday and then, on the Friday, electricity and gas outfits.
The list includes bonds sold by foreign companies such as Apple, Daimler and General Electric as well as UK-based companies including Vodafone and GlaxoSmithKline.
Prices for corporate debt have risen in anticipation — the average yield on a bond in the Bank of America Merrill Lynch sterling index stands at 2.21 per cent. This is slightly off the record low of 2.06 per cent reached the week after the scheme was announced. Yields fall as prices increase.
A risk is whether the scheme will disappoint. The sterling bond market tends to be unloved compared with the larger euro and dollar markets so it may take more than cheap financing to tempt companies to start borrowing, especially with uncertainty about the eventual terms of Brexit still hanging over the economy.
How far is too far for the FTSE 100?
The main London equities index is making fresh headway, as the pound's weakness after the Brexit vote flatters the balance sheets of its exporters and momentum from the rebound in risk assets after the Federal Reserve's September meeting holds. Up more than 12 per cent since its closing nadir in July, the FTSE 100 is back above 6,900, nearing the 7,000 mark it last held in June 2015.
Reporting by Leo Lewis, Michael Hunter, Thomas Hale, Gavin Jackson and Michael Mackenzie