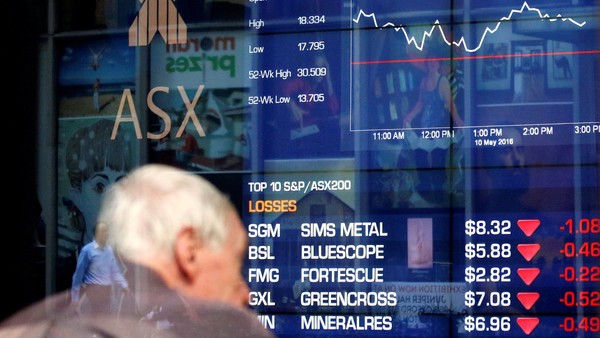 ©Reuters
In the event, Henderson Group and Clydesdale Bank did not stand a chance on Friday. Sydney brokers were already taking orders for opening trade when the news broke about the strong "Leave" leaning in the Sunderland and Newcastle votes on the EU referendum.
Soon after the market opened, selling of the two dual-listed, UK-centred spin-offs of Australian parents began in earnest. Other well-known UK-linked groups in the region, from HSBC to Li Ka-shing's empire, soon followed suit.
What was really notable about Asia's reaction to Friday's events was its geographic range and its sheer brutality compared with other markets. Stocks in Tokyo, the second-largest market in the world, ended off 7.2 per cent. London's FTSE 100, in contrast, ended down 3.2 per cent.
There are several explanations, among them time zones, liquidity but, most importantly, the deepening links between markets — many of which were overlooked in the run-up to Friday's vote. Now these are coming to the fore and they need more examination.
Even now, the Topix is still 4 per cent below its pre-vote level while UK blue-chips have recovered the ground they lost. Time zones were not in Asia's favour as traders were forced to react live to lumpy newsflow for an unprecedented event. Cross-border liquidity in Asia, split as it is between Sydney, Tokyo, Hong Kong and Singapore as well as smaller centres, is generally thinner that London or New York. That adds to the risk of outsized moves.
But many investors were also unprepared. So strong was the conviction the UK would remain in the EU that few strategists had done detailed work on which assets, particularly stocks, to watch. Instead the focus was on sterling, where liquidity was bolstered by London trading desks operating around the clock, and the yen, which acts as the region's fear gauge.
Both deserved attention, the yen especially so, since its sharp rally against the dollar, pushing it to near two-year highs, was the driver for Tokyo's stock sell-off. But the days that followed saw analysts and some investors scrambling to draw up lists of the most exposed assets, including companies — that went beyond Friday's obvious victims. Property developments and factories have been examined for their impact — as they should have been before the vote.
Even the most prepared market followers have spent this week explaining the consequences in more depth for the region. The strong dollar is not necessarily a positive, even for exporters, amid slowing growth in global demand. The yen's strength is also an added headache for Japan's efforts to revive its economy.
"Brexit is so far an accelerator of trends already in place for Asia," says Mohammed Apabhai, head of Asia-Pacific trading strategy at Citigroup, who had recommended a short-Topix, long FTSE trade to clients ahead of Friday's vote. "Bond yields were already heading lower, the renminbi was already depreciating gradually — the question was one of timing, not direction."
Growth forecasts are being revised lower. Analysts at Nomura have one of the bolder forecasts out there, predicting outright recession in Hong Kong. The bank estimates Brexit will knock a full percentage point from its previous expectations for 0.8 per cent growth in the former British colony while knocking 0.7 of a point off Singapore's outlook to growth of 1.1 per cent.
"We've cut these the most because they're the biggest financial hubs and they're very exposed to UK banks," said Rob Subbaraman, head of regional global markets research at the bank. "They're also very open economies and they have very managed exchange rates."
For now, the analysing and the theorising continues. Some are even advancing a positive spin on China.
"For investors, the US doesn't have a great story at the moment and it has an election coming. The UK and Europe are together in their uncertainty, whether they like it or not. And Japan is not a long-term investing solution with negative rates, a strong currency and a weak economy," said Stephane Loiseau, head of Société Générale's cash equities business in Asia. "With all that, people should start looking again at China."
Now that would be one outcome from Brexit that no one could have predicted.
jennifer.hughes@ft.com