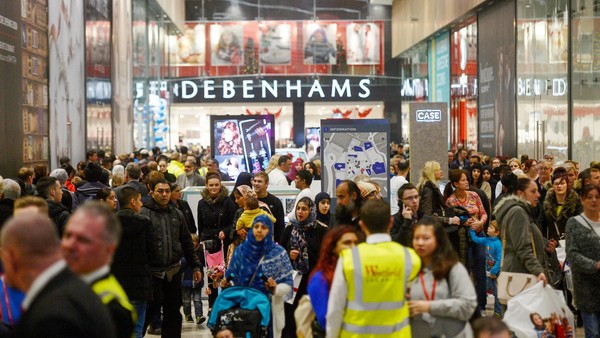 ©Bloomberg
Thousands of customers who bought store cards from high-street retailers such as Laura Ashley and Debenhams as long as 40 years ago might have unknowingly bought payment protection insurance, paving the way for billions of pounds of compensation claims.
Some of these "hidden" claims for mis-sold PPI date back to the 1980s and came about because customers did not tick an opt-out box or were not paying attention after a quick sale at the till.
Experts believe few consumers have complained about store cards, either because they are unaware they were sold the insurance or are unsure where to file the complaint.
The development comes as the Financial Conduct Authority consults on a two-year deadline for PPI complaints, the results of which are expected in the coming weeks, according to one banker. PPI has become the largest consumer mis-selling scandal in the UK banking sector, forcing lenders to earmark more than £30bn for claims.
Although high-street shops sold PPI, they were often staffed with retail assistants permitted to sell the insurance on behalf of a bank or insurer. For example, the credit for a Debenhams store card was provided by GE Capital Bank.
At one point, 300,000 staff at various shops were able to sell insurance on behalf of GE Capital Bank. In 2005 alone, 850,000 policies including PPI were sold on its behalf.
While the amount originally paid for PPI on a store card might have been small, years of statutory interest at 8 per cent, or 15 per cent before 1993, means consumers could be in line for billions of pounds.
James Daley, founder of consumer site Fairer Finance, said: "It's possible there are people out there with claims for thousands of pounds because interest rates on store cards were high — often 30 per cent and above — so potentially there could be people with sizeable claims."
But he added it was likely that such people "would have already made a claim".
Figures from a report by the UK's competition watchdog show that in 2002, there were 17.5m active store cards in the UK.
Nick Baxter, chairman of the Professional Financial Claims Association, said: "Store cards are worse than the banks. There's a perception that the PPI issue is largely done but the reality is we are nowhere near the end."
But Mr Baxter said that consumers risked losing out as a result of the time limit for claims if they were unaware that they had PPI, especially in relation to store cards, because of the "convoluted and confusing" process.
For example, anyone who claimed from a bank and was rejected before 2005 had no recourse to the Financial Ombudsman Service. This is because store cards were exempt from the ombudsman until 2005.
But had the consumer approached the underwriter in the first instance, they could have access to the ombudsman.
£30bn
Amount earmarked by UK banks for PPI claims
Of all the rejected PPI complaints in the past financial year, the ombudsman found in favour of the consumer in 66 per cent of all cases.
In one case brought to the ombudsman, seen by the FT, the body says that "there has been some confusion regarding which business should deal with the complaint". It concluded that "the complaint should be registered against Genworth [an insurance company] rather than Santander".
The claims management body is now urging the FCA to make financial services providers direct rejected customers to alternative routes.
Mr Baxter said: "If financial services firms know a route where customers could pursue their claim, then it's wrong morally to not make consumers aware of it. There is a route for people to get redress if they were sold before 2005, they just don't know about it."
Santander UK was one of the largest store card issuers after it bought General Electric's store card business in 2008, which it sold in 2013. GE Capital Bank had provided store cards to retailers over a few decades from the 1980s.
In letters seen by the FT, Santander said to a number of rejected consumers that if the store cards were sold before 2005, they would "not be able to escalate their PPI mis-selling complaint to the Financial Ombudsman Service, as this sale was made before January 14 2005".
Although claims management firms offer a route for consumers, they have come under fire. A report by MPs on the public accounts committee said that claims management companies had made up to £5bn from PPI claims, which it described as a "failure of the system of regulation and redress".
Sources close to Santander UK said that the bank was looking at developing the process for claims on pre-2005 policies to gain access to the ombudsman.