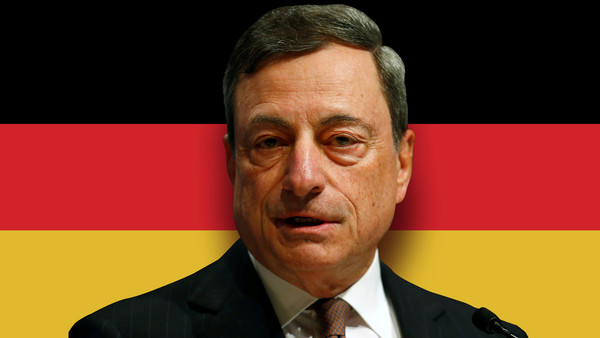 In Dillingen an der Donau, a small town in rural Bavaria, the local Sparkasse savings bank is providing an unusual service. For customers who live a long way from a branch, it is giving out free bus tickets. And for those who cannot get to the bank at all — the old or sick, for example — it offers to send a member of staff
directly to their homes to deliver small sums of cash.
The Sparkasse came up with the idea to compensate for the fact that it was closing several branches as revenues dwindled due to interest rates being at a record low and customers visiting less frequently. "If your revenues are shrinking, then you have to do something about your costs," says an official at the bank. "You have to economise."

The pressure on Germany's army of savings banks is just one example of the increasing strains on the country's financial system caused by the ultra-loose monetary policy of the Frankfurt-based European Central Bank.
In a bid to jolt the eurozone's lacklustre economy back to life
, the central bank has, over the past five years, slashed interest rates to record lows and even pushed its deposit rate into negative territory. On top of this, it has launched a €1.7tn asset purchase
programme, which has driven down bond yields across the continent.
The measures have bought time for reform in the battered economies of southern Europe. Yet in Germany, they have met a blizzard of opposition. The country's hawkish monetary policy establishment has always nurtured a degree of scepticism about the institution that succeeded the Bundesbank as the custodian of Germany's monetary stability. But as
savers, banks and insurers have been increasingly hurt by low interest rates — nominal yields on 10-year German bonds have fallen from about 4 per cent in 2008 to less than 0.2 per cent today — the criticism of the ECB has intensified.
The media has accused the central bank of fuelling a "social disaster", while one bank has claimed that low interest rates will have deprived German households of €200bn between 2010 and the end of this year. Germany's financial watchdog, BaFin, branded low rates a "seeping poison" for the country's financial system. The most dramatic intervention, however, came from Wolfgang Schäuble, the hawkish finance minister, who blamed ECB president Mario Draghi for "half" the rise in support for Alternative for Germany, the rightwing, anti-immigration, anti-euro party.
Mr Draghi hit back, archly noting that the ECB has a mandate "to pursue price stability for the whole of the eurozone, not only for Germany", and argued that low borrowing costs were symptomatic of a glut in global savings for which Germany was partly to blame.
The two men have toned down their rhetoric but, with parliamentary elections in Germany next year, the argument will not go away. Indeed, with the AfD likely to do well in regional polls this September, "the immediate risks are political", says Carsten Nickel, of Teneo Intelligence, a political research group. "With a year of elections ahead, there is a lot of potential for conversations about monetary policy."
Fringe benefits
Despite the damaging public duel between Berlin and Frankfurt, the eurozone's biggest economy has also benefited from the ECB's policies. The plunge in yields on government bonds means that Mr Schäuble can borrow extraordinarily cheaply. Annual interest costs have plunged from €63.9bn in 2010 to €48.5bn in 2015, helping Germany to run a budget surplus last year despite the costs of the refugee crisis, and plan for another this year.
That
its European trading partners remain afloat has enabled them to keep buying German goods. At the same time the euro's dive against other currencies has made German exports cheap for buyers outside the currency bloc.

For German savers these factors matter less than the pressures in the country's financial system. It is these people that are potentially the biggest losers.
The virtue of saving is ingrained in the national psyche, with the thrifty Swabian housewife a near-mythical figure. In 2015, Germans set aside 17 per cent of their disposable income, second only to Sweden within the EU. Not only do Germans save more than most of their European peers, they do so in a way that makes them particularly sensitive to low interest rates.
"We have a savings culture that is going to break if low interest rates continue,"
says Alexander Radwan, a finance expert from Bavaria's centre-right CSU, the sister party to Chancellor Angela Merkel's CDU.
The country has the EU's lowest home ownership rate,
52.4 per cent,
meaning that many Germans have not benefited from the rising property prices that have accompanied the ECB's expansive monetary stance. Germans, meanwhile, have never really developed a taste for investing in shares. Just 14 per cent of adults say they hold stocks, according to the Deutsches Aktieninstitut, a lobby group.
There are various reasons for this, according to Gerrit Fey, head of capital markets policy at the Deutsches Aktieninstitut. Some are structural. The tax system does little to encourage widespread share ownership, and the public pension system does not require people to get involved with markets.
"There is no capital stock linked to a particular worker that needs to be built up for retirement, so people aren't forced to think about the stock market in the same way," says Mr Fey.
There is also a psychological element.
"Germans are very conservative about how they invest," he says. "The basic mentality is: if I don't have to take a risk, I won't."
The big stock market cycles of the past 20 years have not made it any easier to overcome that scepticism. Millions of Germans bought shares in the part privatisation of Deutsche Telekom, only to be burnt when the dotcom bubble burst. The 2008 financial crisis deepened Germans' suspicion about shares.
Squeeze on insurance returns
As a result, Germans park much of their spare money in savings accounts or low risk fixed-income products. Among the most popular investments have been life insurance policies — particularly those with guaranteed returns.
In the good years, the returns were as high as 4 per cent. However, as the ECB has driven down yields on government and corporate bonds — which Germany's life insurers traditionally bought to secure the income to meet these promises — the sector has come under huge pressure.
The Bundesbank's latest stability report paints a worrying picture. In the worst of three scenarios it suggested that 21 of the 83 insurance companies it surveyed, with a market share of 35 per cent, would not meet minimum capital requirements by 2025.
People in the industry say this is overly pessimistic. Nonetheless, the government wants to cut the maximum return that insurers are allowed to guarantee to just 0.9 per cent of what policyholders pay in each year, and the industry is trying to sell more non-guaranteed products. To boost their investment income, insurers are also taking on more risk, by buying longer duration bonds, and tentatively venturing into alternative asset classes.
Many observers, however, remain sceptical. "Even if you cut the guarantees from 1.2 per cent to 0.9 per cent, so long as 10-year Bunds are yielding 0.2 per cent, you have a problem," says Olaf Stotz, professor at the Frankfurt School of Finance and Management.
The situation in the banking sector is no easier.
The
industry is among the least consolidated in the eurozone, with a huge network of savings and co-operative banks. The top five institutions hold a market share of just 32 per cent, resulting in ferocious competition, which has only intensified as interest rates have plunged.
The prominence of the savings and co-operative banks — whose business revolves around taking deposits from and making loans to local communities — means that, in aggregate, the German banking system is highly dependent on interest rates.
Martin Wolf

Germany is the eurozone's biggest problem
The monetary union will fail if it is run for the benefit of creditors alone
As the ECB has pushed rates towards zero, bank margins have withered. A study by BaFin and the Bundesbank last year found that Germany's 1,500 small and midsized banks expected profits to fall by an aggregate of 25 per cent by 2019, mainly due to the collapse in net interest income. The study projected that if rates fell a further 100 basis points, lenders' profits would plunge at least 60 per cent by the same date.
The ECB's decision to cut its deposit rate to minus 0.4 per cent in March also means that German banks have to pay a charge on their excess liquidity. Last year, the bill was €248m, according to the Bundesbank.
"It's the triple Draghi," summarises one senior German banker. "Part one is the interest rates. Part two is that there are no alternative investments. And now the ECB is starting to buy up corporate bonds the margins on those will get smaller, and that will have a ripple effect [on business loans and therefore bank margins] for other segments as well."
In some countries, banks have tried to protect their margins from negative rates by increasing the interest they charge on loans. However, bankers say that this is unlikely to work in Germany. "I can see it happening in markets like Switzerland or France or the Netherlands, [places] where there are four or five banks, which have 70 to 80 per cent of the market," says one senior banker.
With the exception of one small co-operative bank, German groups have shied away from passing negative rates on to ordinary savers for fear of a backlash. Instead they have targeted institutional and corporate clients.
"I think the savings banks and Landesbanken will hold the line as long as possible," says Gunter Dunkel, head of the Association of German Public Banks, and chief executive of NordLB, a Hannover-based Landesbank. "The man on the street will be protected."
Cutting back
Banks have also, quietly, begun introducing fees for services that have previously been free and cutting costs. HVB, the German subsidiary of UniCredit, is axeing almost half its branch network, while Deutsche Bank said last year that it would close 200 of its 700 retail branches in Germany.
Markus Kerber, head of the business lobby BDI, argues that the sector needs consolidation, "Germany is overbanked," he says.
For now, combining back office operations and small-scale mergers between savings banks are seen as a more likely scenario than a blizzard of industry-wide dealmaking. "This is a slow burner," says one banker. "But the pain will keep mounting".
What may be a slow-burner for the savings banks could be anything but for Germany's political leaders. With Ms Merkel's CDU/CSU bloc losing public support over its controversial immigration policy, the last thing she needs is for savers — and bankers — to turn against her. But with little sign that Mr Draghi will change the direction of ECB monetary policy markedly before the autumn of 2017, near-zero interest rates will remain high on the political agenda.
Pensions: funds struggle in a low-rate world
 

It is not just Germany's banks and life insurers that are suffering from low interest rates, BaFin has also singled out
corporate pension schemes.

"Pension schemes are suffering even more badly," said Frank Grund, head of insurance and pension fund supervision at the financial watchdog's annual press conference in Frankfurt last month
. "It's possible that some will soon be in a position where they can no longer fully meet their obligations from their own means."

Although BaFin has been pushing pension schemes to build up reserves to cope with low rates, the interest rate they must apply on existing contracts stands, on average, at 3.28 per cent — a level that is becoming hard to meet when 10-year Bunds yield less than 0.2 per cent.

"The situation at the moment is OK, but the problem is that if you extrapolate into the future, it doesn't look very rosy," says Alfred Gohdes, from Willis Towers Watson, an adviser to institutional investors. "Benefits will be reduced . . . Will they be reduced to zero because the pension system goes bust? No. But they will be reduced here and there by 5 per cent or 10 per cent depending on the degree of shortfall
. And whatever event the [corporate pension schemes] cannot finance, falls back on the employer to make whole," he says.

Mario Draghi, president of the European Central Bank, has acknowledged that German pension funds are under pressure but denied that the problem was simply low rates, saying: "This has to do with a variety of reasons . . . but basically it's not because of the monetary policy".

Mr Gohdes disagrees. "The central banks certainly saved the financial system with their actions in 2008. But if there is a central bank buying government bonds come what may, then of course there will be consequences," he says. James Shotter