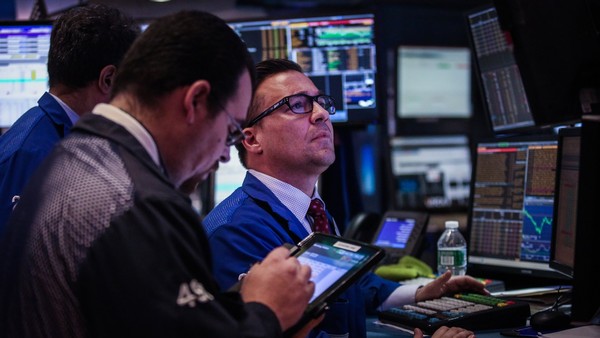 ©Bloomberg
US equity funds continue to bleed money as investors fearful of weak company earnings and wavering oil prices remain unconvinced by the market's strong rally over the past week.
Globally, equities lost $7.3bn for the week ending Wednesday, with the US responsible for $4.2bn of outflows, taking total outflows in the US to just shy of $50bn this year. Retail investors remain especially cautious, clocking up their 24th consecutive week of outflows, according to data from EPFR.
Equity markets continue to rally, with the S&P 500 indicative of Wall Street's charge, rising a little less than 1 per cent for the week ending Wednesday, to 2,102.40. The index sits close to fresh highs, with some analysts believing the market has the legs to set a new record.
But despite efforts from central bankers globally to keep markets calm — with the US Federal Reserve dampening expectations of a further rate rise in the near future and Mario Draghi, president of the European Central Bank, maintaining aggressive policy on Thursday — investors still see much to be concerned about.
The beginning of the US earnings season is proving underwhelming, even starting from low expectations.
Oil prices have survived potential collapse after a meeting last weekend in Doha failed to produce agreement on a production freeze. But nerves remain with fears that if oil falters equity will not be far behind.
"Oil remains of focus following the meeting in Doha, where major oil-producing countries failed to reach a production agreement," said Terry Sandven, chief equity strategist at US Bank Wealth Management, in a research note. "We continue to believe that oil will remain a source of tension for the equity market until the price of crude oil becomes stabilised as a result of a greater balance between production and consumption levels."
Commodity sector funds continued their strong 2016 performance with fresh inflows, while energy sector funds suffered their steepest outflows of the year. Investors are braced for upcoming earnings from Exxon and BP next week after the collapse of US coal group Peabody.
In Europe, equity redemptions ahead of Thursday's ECB meeting pushed the year-to-date total to more than $20bn, according to EPFR data. Investors also remain concerned about a recovery in the eurozone and the health of the Italian banking system. Japanese equities also suffered, with $2.5bn heading out the door.
It has meant a continuation of support for bond funds, which saw broad inflows across sectors and geographies. Emerging market bond funds have taken in more than $1bn in five of the past seven weeks. US inflows were dominated by long-term corporate funds, while long-term government bond funds saw outflows.
Flows separately tracked by Lipper reported inflows of $410m to high-yield bond funds over the past week, while loan funds saw outflows of $93m.