©AFP
Greybull Capital: British fabrication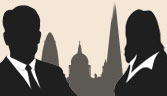 The news that Greybull Capital is swooping to the rescue of one of the UK's biggest steelworks was cheered by staff in the sector. Tata Steel of India has agreed to offload its struggling European long products unit, which is based in Scunthorpe, Lincolnshire, to the family investment firm. Not only does the deal offer a lifeline to 4,800 mostly UK-based employees. Greybull has also pledged to resurrect the British Steel name — spawned almost 50 years ago to unite and nationalise Britain's 14 big steelmakers. That's a slick marketing wheeze. But the workers at Scunthorpe are about the only British thing about the rescue. Greybull is the family office of the French-born Meyohas family, who made their fortune in finance, and the Swedish Perlhagens, who made their money in medicines. Greybull itself is named after a town near Yellowstone National Park in Wyoming. A tad more glamorous than the chimneys of Scunthorpe.
©AFP
António Horta Osório: Next challenge
At HSBC's annual meeting on Friday, succession planning tops the agenda for shareholders. Douglas Flint is expected to be replaced as chairman within a year, and the bank is likely to seek a successor to CEO Stuart Gulliver the following year. Gulliver, the boss since 2011, has said he plans to see through his "pivot to Asia" strategy to the end of 2017. After that, pressure from investors may mean it breaks with its tradition of plotting succession internally. Henri de Castries, Axa's outgoing boss, joined HSBC as a non-executive director last month. He's the favourite to succeed Flint. As far as the CEO succession goes, might António Simoes, the European head and an option for the role if it was to go to an insider, give way to a rival António. City Insider hears fellow Portuguese banker António Horta Osório, currently head of Lloyds and a popular figure among investors, may see 2018 as a good time to move to his next challenge.
©AFP
Matthew Gould: Cyber man
The hazy world of cyber security is all the murkier when government gets involved. Last August, the Cabinet Office appointed high-flying diplomat Matthew Gould — until then UK ambassador to Israel — to the role of cyber security director. The job made him a key go-between linking government cyber policy to the City of London and the broader business world. Over the past year or two, cyber has overtaken the likes of credit risk and market risk as a key concern for financiers, though of late has been upstaged by Brexit fears. How appropriate, then, that Gould moved — barely six months into his cyber job — to head the anti-Brexit "referendum unit". City Insider hears Gould, dubbed the government's Scaremonger General, will not return to the cyber job. So it's official. Brexit risk beats cyber risk even after June's poll.
Chris Saul: Legal high
To the Saatchi Gallery, where Magic Circle law firm Slaughter and May threw a party last Thursday for popular retiring senior partner Chris Saul and his successor, Steve Cooke. As a backdrop for the evening, Saul, a rock fan and inveterate festival goer, had picked Exhibitionism: an immersive exhibition with over 500 original Rolling Stones artefacts. In Keith Richards' autobiography "Life", the star recalls that "for many years I slept, on average, twice a week. This means I have been conscious for at least three lifetimes." The legal eagles admired his stamina. One partygoer joked: "He ought to have been a corporate lawyer." Keith must be kicking himself.