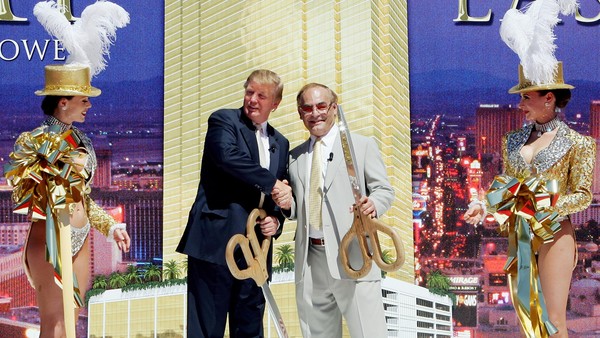 ©Getty
Phil Ruffin's life would make a great paperback novel. He is, after all, the rare US billionaire who has repossessed a pet monkey for a Texas department store, parlayed a fortune rooted in Kansas convenience stores into casino holdings in the Bahamas and Las Vegas, married a Ukrainian beauty queen four decades his junior and wound up living in a mansion previously occupied by Prince Jefri of Brunei.
But after 81 years of hard work, derring-do and good fortune, he now finds himself in his most unexpected role: a character on the political stage. Mr Ruffin is a business partner, friend and campaign ally of Donald Trump. The two are co-owners of the Trump International Hotel & Tower in Las Vegas. When Mr Ruffin was married in 2008, Mr Trump served as best man. When Mr Trump celebrated his win in Nevada's Republican presidential caucuses, Mr Ruffin's Treasure Island hotel hosted the party.
As the world tries to make sense of Mr Trump's rollercoaster business career and surprising rise to the top of the Republican presidential field, Mr Ruffin offers a rare insider's perspective. The partners in the 64-storey condominium-hotel overlooking the Las Vegas Strip form a mutual admiration society. Each sees something of himself in the other. Both feel part of a rare breed.
While introducing Mr Ruffin at a rally in Iowa this year, Mr Trump paid his partner perhaps his ultimate compliment — the same one, he told the crowd, that his late father Fred used to bestow on his son. "It's like everything he touches turns to gold," Mr Trump said of Mr Ruffin. The latter acknowledges an "instinct" for good deals and discerns a similar tendency in the former. "Donald uses a lot of instinct," he says, describing his business partner as "an alpha male".
"You are at a table with seven or eight people, he dominates," Mr Ruffin tells the Financial Times during an interview in his Las Vegas office. "He's very exceptional. You don't get those kind of people running for president. You get guys that are Class B lawyers. They don't know anything. Comparing Donald to [Texas senator Ted] Cruz, [Florida senator Marco] Rubio or some of those guys — that's men against boys."
Mr Ruffin delivered his verdict calmly. A wiry, wily Wichita, Kansas, native who was 147 pounds when he was winning titles as a high school wrestler, Mr Ruffin is the stylistic opposite of his brash buddy from New York. He wears wire-rim glasses. His thinning hair, dyed a deep orange, falls haphazardly across his scalp, unlike Mr Trump's structured coiffure.
They are the kind of Americans who inspired historian Walter McDougall's description of the US as a nation of "hustlers", by which he meant "builders, doers, go-getters, dreamers, hard workers, inventors, organisers (and) engineers" as well as "self-promoters, scofflaws, occasional frauds and peripatetic self-reinventors".
Both trace their family histories in the US to the frontier. Mr Trump is the grandson of German immigrants who took part in the Alaska gold rush before settling in New York. Mr Ruffin's paternal grandfather left Lebanon for Oklahoma, where Mr Ruffin's father recalled witnessing the 1924 gunfight that took the life of Bill Tilghman, the legendary gunslinger and marshal of Dodge City, Kansas.
Neither Mr Trump nor Mr Ruffin has created a smartphone app or commanded an enterprise of the complexity of a General Electric, a Goldman Sachs or a Google. They are wheelers and dealers in real estate, hotels, casinos and whatever else comes their way. Theirs is a milieu where money is made by seizing moments, squeezing contractors, battling creditors, and "pushing and pushing and pushing", as Mr Trump put it in The Art of the Deal, his 1987 book.
"We negotiate all the time," says Mr Ruffin. "We negotiate something every week."
Hustlers' convention
Mr Ruffin came into Mr Trump's life in the late 1990s when the New York developer and casino operator was in need of new friends. Many of his old ones had lost patience with him. Weighed down by a mountain of debt, much of it backed by his personal guarantees, he began the decade by seeking to reorganise his corporate empire in a federal bankruptcy court.
The years-long workout that followed was brutal for just about all concerned. Mr Trump was forced to shed many of his prized assets — New York's historic Plaza Hotel, his eponymous airline and his 281-foot yacht among them. He also "pushed and pushed and pushed", as he said he would. Even today, leading New York lenders such as JPMorgan Chase and Citigroup, whose predecessor companies backed him in the old days, keep their distance from Mr Trump.
But the Trump name still played in the provinces. After taking over the Frontier Hotel in Las Vegas in 1998, Mr Ruffin said he sounded out Mr Trump about collaborating. "I thought he could help me with the Frontier, do something with the Trump name," Mr Ruffin says. "But that never worked out."
Mr Trump had never run a casino in Las Vegas. Then again, neither had Mr Ruffin, though such details had never stopped him before. He was a college dropout whose route to the big time began in the 1950s, when his manager at the WT Grant department store in Houston, Texas, dispatched him to reclaim a monkey whose owner had fallen behind on his payments to the retailer.
"He was a mean little bastard," Mr Ruffin says of the lesser primate in the transaction. "He bit me." Licking his wounds, Mr Ruffin spied a man driving "a beautiful Cadillac with a redhead" by his side. "I said, 'Who is this guy?'" Told he was the store's landlord, Mr Ruffin resolved to be like him. Borrowing $1,500 from his father, a grocer, he went back to Wichita and bought a convenience store in 1959.
Retailing treated Mr Ruffin better than the monkey did. His first big break came after he found out his store was too small to be covered by local laws requiring it to close on the Sabbath. So he opened on Sundays and prospered, buying more stores in other states. His next breakthrough came when he installed self-service fuel pumps, a strategy that proved profitable, if problematic, in his home state of Kansas.
"It happened to be illegal at the time," says Mr Ruffin, who then waged a court battle that overturned the prohibition and secured the right of people in Kansas to pump their own petrol.
'Gross becomes net'
As he neared his 60th birthday, Mr Ruffin owned more than 60 stores and a dairy to supply them with milk, as well as real estate, hotels and oil wells. But he was not finished yet. He leased his retail locations to Total of France and headed offshore, buying the Crystal Palace resort in the Bahamas for $80m in 1994 from Carnival, the cruise ship company. With help from Perry Christie, a lawyer who is now prime minister of the Bahamas, Mr Ruffin obtained a gaming licence and made himself at home.
"The good part about the Bahamas is that gross becomes net, there is no income tax," says Mr Ruffin, who sold the resort for $147.5m in 2005. "I like doing business in the Bahamas. It was very easy. We didn't have high wages."
Another benefit was personal. Mr Ruffin found his redhead in a Cadillac when Oleksandra Nikolayenko, Ukraine's representative at multiple beauty pageants, took part in one at the Crystal Palace. When they celebrated their nuptials at Mr Trump's Mar-a-Lago beach club in Palm Beach, Florida, the groom was 72 and the bride was 26. The best man was so moved he picked up the tab for all the guests. "It was crazy," Mr Ruffin says, estimating the gesture cost Mr Trump $300,000.
Mr Ruffin still likes what he sees in his wife, as he demonstrates when Mrs Ruffin walks into her husband's office during his FT interview to deliver a smartphone he had left at their home. "Ain't she pretty?" he asks, rhetorically.
Mr Ruffin's Bahamian sojourn set the stage for his move into Las Vegas and his partnership with Mr Trump. Mr Ruffin said he learnt in 1997 that the Frontier, an ageing facility with considerable land holdings along the Strip, was for sale. But there was one problem. Culinary Workers Union Local 226 — known as "the Culinary" — had been on strike for more than six years. To make the deal work, Mr Ruffin had to reach one agreement to buy the property — paying $165m to the Elardi family — and another with union leader John Wilhelm to resolve the walkout.
"He and I met at Caesar's Palace," Mr Ruffin said. "We had a couple of drinks." He agreed to take back the strikers and cover what they were owed, in return for salary cuts in future years. Labour peace ensued. "I have union experience," says Mr Ruffin, who previously dealt with the Teamsters union at his Kansas dairy. "They are tough — oh, God, are they tough. If you can deal with the Teamsters, the Culinary was easy."
'I want etched glass'
Mr Ruffin
became the man with the golden touch — in Mr Trump's eyes — when he sold the Frontier site in 2007 for $1.24bn to El-Ad of Israel. The deal valued the land at more than $30m an acre, about 10 times what experts say it would have fetched after the crisis hit. Following ill-fated attempts to invest the proceeds on Wall Street — "we didn't have the expertise to deal with those guys," Mr Ruffin says — he stuck to Las Vegas and struck a $775m deal in 2009 to buy the Treasure Island Hotel & Casino from Kirk Kerkorian's MGM Mirage group.
Mr Ruffin's dealings with Mr Trump in Las Vegas have proved less profitable. Over a decade ago, the two settled on a plan to build a condominium-hotel — originally conceived as twin towers — on land that Mr Ruffin owned behind the Frontier. Mr Ruffin says Mr Trump worried at first that the Trump International site was too far from the Strip. But he won over his partner by assuring him the Trump name would be visible "all the way down" the thoroughfare.
Mr Ruffin said the partners invested about $20m each and secured a loan of more than $500m led by Hypo Real Estate of Germany to build the first tower. By the time it was topped out in 2007, the partners thought they had offers for most of the 1,282 units. But when the US economy tanked, only about 300 of those deals closed and plans for a second tower were shelved.
"We started losing $8m a year. I put in $4m. He put in $4m. He never squawked," Mr Ruffin says. "He's a big boy. I'm a big boy. Sometimes you lose money on this stuff."
Cushioning the blow was the social relationship between the Ruffins and Mr Trump, 69, and his third wife, Melania, 45, a former Slovenian model. The quartet's activities in recent years have included a viewing of the film Lincoln, which apparently bored both wives.
"The two girls are from Europe and they didn't know what the hell was going on," Mr Ruffin told the Las Vegas Review-Journal in 2013.
The outlook for the tower today is improving. "We have no debt now," Mr Ruffin says. "It's in the black." With 418 unsold units currently, Mr Ruffin believes the partners "could sell the balance" for "$300m or $400m".
All these years later, the project is also a work in progress. About 4 acres of available land at the site affords the partners the opportunity to add convention facilities or even a casino. Another wild card involves Local 226. Tower workers have voted to be represented by the union, but Mr Trump, as managing partner, is still battling to keep Local 226 out. Union officials say they remain confident of eventual victory.
Mr Ruffin says he deals with Mr Trump's son, Eric, on tower matters now the campaign is under way. While complimentary of Eric, he misses his old interaction with Mr Trump. "We used to talk about business all the time — this deal or that deal," he says. "When I saw him work over here with Trump Tower, he is just brilliant. He makes his mind up quick. He would walk through with the contractor and say, 'Do this, do this, do this. I don't want this glass in the shower rooms, I want etched glass.'"
Mr Ruffin says Mr Trump "will make a great president" and donated $1m at the candidate's fundraiser for veterans in January. He trusts in Mr Trump's instincts, just as he trusts in his own. But there is also a part of him that wonders why a person with so much in life would go through all the trouble of running for the White House. Mr Ruffin is more of a Cadillac-and-redhead man himself.
"He always had an interest in politics. He thought about running a couple of times," Mr Ruffin says of his friend's ambitions to become US president. "I told him don't run . . . I said you are king of the world for God's sake. You are making a couple hundred million a year. You've got all this stuff. He said, 'It's broken and I can fix it.'"