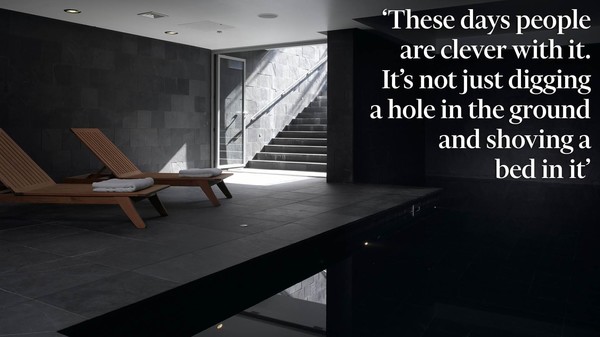 ©Alamy
The number of planning applications to dig basements in London has doubled in two years, as soaring house prices make it a canny investment.
Roman Abramovich, the Russian tycoon and owner of Chelsea football club, last week won planning permission to make space for a bigger swimming pool underneath his Kensington mansion — and plenty more are also extending underground.
Figures compiled for the FT by Glenigan, a company that tracks planning applications, show there were 887 applications to build a basement on a residential property in London last year. This is up a quarter compared with 2014 and almost double the pre-crisis peak in 2007.
Digging a basement can be unpopular — they can cause years of disruption to neighbours and sometimes do structural damage to other buildings.
Ed Mead, director of estate agency Douglas and Gordon, said that "once property values get to £800 a square foot and upwards, it is worthwhile" to dig down, because the cost is exceeded by the value it adds to the property.
"It's probably the single most disturbing thing you can do [to your neighbour]. If you combine that with councils' desire to listen to residents, you've a recipe for indignation."
He said that in his experience the space created could be worth the same per square foot as that above ground. "These days people are clever with it. It's not just digging a hole in the ground and shoving a bed in it. The spaces that are created can often be better than space above ground."
If £800 per square foot is the point at which house prices create a financial incentive to excavate, it is possible to identify which areas may be next for a basement boom.
In Chiswick, the average price of a home (not including flats) is £821 a square foot, while in Battersea it is £799 and in Kennington £789, according to LonRes, a research company that tracks property prices. For comparison, Hampstead is £1,260, Chelsea £2,050, Kensington £1,930 and Mayfair £2,860.
Another incentive is the added costs of buying a house for more than £1m because of recent tax changes. The stamp duty land tax charged on a £1.5m house is now £94,000, meaning extending a house can make more financial sense than buying a bigger one.
However, the disruption and the potential for structural damage means there is also some vociferous opposition to the trend. Oliver Froment, chairman of the Camden Residents Association Action Committee, said: "Having a basement built next to your house is very noisy, it's like drilling a tunnel next to you. It's a complex engineering process, constant piling, your house shakes."
He said some developers were buying houses, adding basements to bump up the price and selling them on. "That's the sort of thing that's wrong. It's different if someone lives in a house and needs more space."
He said it could be difficult for homeowners to get compensation in the courts if their homes were damaged because developers sometimes used shell companies and offshore structures.
Basements do not necessarily need planning permission and the law in this area is open to interpretation. Jessica Learmond-Criqui, a lawyer campaigning against basements in Hampstead, said the local council, Camden, did not require planning permission for one-storey basements that do not extend to more than half the garden. "There is a lot of resistance to their interpretation [of the rules]," she said.
Tim Coleridge, Kensington and Chelsea's cabinet member for planning, said that, from May, all basements in the borough would require planning permission. "Many people have been building basements without planning consent."
The borough was the first to tighten rules on basements two years ago and other areas are following suit. Last month, Islington adopted stricter rules. Camden said: "We are extremely concerned about the many issues presented by basement developments and are currently reviewing our planning policies."
Historic studio hits back against neighbours' plans
 

Originally a Kensington phenomenon, basement dig-downs have spread across London to places such as Hampstead, where a famous recording studio says it faces closure.
©Bloomberg
Air Studios, which occupies a listed 19th-century former church and is one of only two studios in London that can fit a whole orchestra, is trying to block its neighbour from digging a basement that would contain a swimming pool and cinema. Bands such as Coldplay and Muse have used the studio and scores for blockbuster films have been recorded there.
The studio and its supporters, which include singer George Michael and Queen guitarist Brian May, claim the noise would disrupt recordings and mean the studio would have to close for two years.
"It is pure greed, what else is it?" said chief executive and co-owner Paul Woolf. He said it was "too risky" to build a basement because of the area's geology. "It's not for me to defend my business, it should be for the neighbours to prove that this is risk-free to me. I was here first."
Thomas Croft, architects for the neighbours, Andrew and Elizabeth Jeffreys, said they wanted to find an "amicable and practical solution to ensure the building work can be carried out whilst the studio stays open", and that Air Studios had refused to meet them.
Camden Council is considering the planning application.