©Reuters
BNP Paribas reported its highest quarterly profits since 2012 as the eurozone's biggest bank by assets benefited from market volatility and bouncing back from back from a multibillion fine in the same period last year.
The Paris-based lender said that net profits were €2.6bn in the three months ended June 30, compared with a €4.2bn loss a year earlier when it received a record fine for violating US sanctions.
In June last year, US regulators imposed an $8.9bn fine following BNP Paribas's guilty plea after finding that the bank had processed more than $30bn of transactions for groups in Sudan, Iran and Cuba between 2002 and 2012.
Pre-tax profit from its corporate and investment banking divisions rose 26 per cent in the second quarter to €1bn, helped by stronger trading activity amid a tumultuous quarter in certain equity markets, particularly in Asia.
The past few months have seen severe market turbulence in China amid fears of a slowing economy. The Shanghai Composite shed 8.5 per cent on Monday, its steepest drop since 2007.
BNP said that the quarter had seen a "favourable environment for equity markets" although it said that fixed income had been less strong due to "uncertainties over monetary policies and tensions related to Greece".
The bank said the weakness of the euro had contributed to the healthy results. Over the past three months, the euro has fallen 2.3 per cent against the dollar and since the start of the year it has lost 8.3 per cent.
Revenue in its French retail banking division declined by 2 per cent in the second quarter, however, as the company continued to struggle with the low interest rate environment and sluggish growth.
But overall the company reported a 16 per cent rise in revenue to €11.08bn, above analyst's expectations, helped in part by the acquisition of Polish bank BGZ made last year.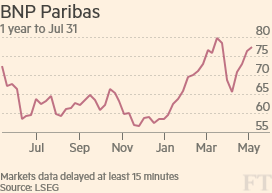 The company took the opportunity to strengthen its balance sheet, with the bank's core tier-one ratio, a key measure of financial strength, rising to 10.6 per cent at the end of the quarter, up from 10.3 per cent in March.
BNP Paribas's retail banks in France, Italy, Belgium and Luxembourg collectively posted a 3 per cent rise in revenue to €4.02bn.
The bank's international financial services division, which includes retail banking outside the eurozone, insurance and private banking posted a 21 per cent jump in revenue to €3.88bn.
The bank boasted annualised return on equity of 10.1 per cent excluding exceptional in the first six months of the year, in line with its strategic plan for 2016 which provides it is established at 10 per cent minimum.