HSBC said that 'in the past' its Swiss private bank had some clients 'that may not have fully met their applicable tax obligations'©Reuters

Lord Green of Hurstpierpoint, former chairman and CEO of HSBC, has been urged to answer questions about the bank's tax practices©FT

In 2008 former employee of HSBC Private Bank Hervé Falciani hacked into data that could reveal the names of thousands of tax evaders©AFP

Since taking over as chief executive in 2011, Stuart Gulliver has set about reforming the group and cleaning up earlier misdeeds©Bloomberg

HSBC admitted in December 2012 that it processed drug trafficking proceeds through Mexico
Previous image
Next image
Next Thumbnails
Previous Thumbnails
Doubts over HSBC's claims to have cleaned up its act after alleged collusion with widespread tax-dodging by rich clients of its Swiss private bank have been raised by the UK business secretary in letter to bank chairman Douglas Flint.
Vince Cable said he was worried by the sacking of Sue Shelley, the head of compliance in Luxembourg at HSBC's private bank, who told the BBC's Panorama programme that she was dismissed 18 months ago for flagging up tax-dodging problems.
HSBC has responded to the allegations that it colluded with thousands of wealthy clients in helping them keep money hidden from tax authorities by arguing that its Swiss private bank has "undergone a radical transformation in recent years".
The bank said: "We have taken significant steps over the past several years to implement reforms and exit clients who did not meet strict new HSBC standards, including those where we had concerns in relation to tax compliance."
But Ms Shelley, who won an unfair dismissal case in an industrial tribunal, told the BBC on Monday night that she was fired for pointing out compliance failures as recently as 2013. "I think the verbal messages were great but they weren't put into practice and that disturbed me greatly," she said.
Mr Cable said in his letter to Mr Flint: "I have been particularly troubled at suggestions that some elements of these practices may have continued much more recently, notably the allegations of your private bank's former head of compliance in Luxembourg."
The political storm prompted by the revelations about HSBC have raised the possibility that the bank could face fresh legal action in the US and UK.
British politicians have promised to hold an inquiry into the affair and a Treasury minister has raised the possibility of launching a criminal investigation of the bank, as the US, France, Belgium and Argentina have already done.
Meanwhile, the US Department of Justice could re-examine a 2012 agreement that shields HSBC from prosecution for earlier money-laundering infractions, according to people familiar with the agency.
The DoJ is still investigating whether HSBC helped clients avoid US taxes, and, separately, whether the bank manipulated foreign exchange markets.
In relation to those probes, officials could reopen the DPA, choose to impose other penalties, or none at all, people familiar with the case said. The agreement did not limit the DoJ in the tax probe.
The revelations could put additional pressure on the DoJ to be tough on HSBC in the pending probes.
"The recent revelations about HSBC's efforts to shield individuals from the laws of the US and other nations are just the latest in a long list of troubling misdeeds by the bank," said Congresswoman Maxine Waters, the senior Democrat on the House Financial Services Committee.
"While HSBC has paid billions in fines to the United States and other nations, it outrages me that not a single individual has been prosecuted or held accountable."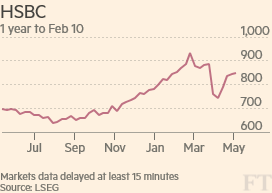 HSBC argues that the recent allegations – stemming from a leak of client account details to several media organisations – date back to 2005-2007 when Swiss private banking "operated very differently to the way it does today".
"Private banks, including HSBC's Swiss private bank, assumed that responsibility for payment of taxes rested with individual clients, rather than the institutions that banked them," it said. "We are also cooperating with relevant authorities investigating these matters and we acknowledge and are accountable for past control failures."
The Labour opposition party has focused its attack on the appointment by David Cameron of Lord Green, former HSBC chief executive and chairman, as a trade minister in 2011 — after details of the Swiss tax evasion scandal became known. Lord Green declined to comment.
But the role of Lord Green in the affair will come under scrutiny from the powerful UK Commons public accounts committee, which is investigating tax avoidance and is due to question Lin Homer, the head of HMRC, on Wednesday.
"Either he [Lord Green] didn't know and he was asleep at the wheel, or he did know and he was therefore involved in dodgy tax practices," said Margaret Hodge, the committee's chairman.
You need JavaScript active on your browser in order to see this video.