Tuesday 08:30 GMT. Fretting over Greece's stand-off with its creditors, concerns about the conflict in Ukraine and more evidence of softening demand in China are contributing to a cautious mood across global markets.
After a mixed Asia-Pacific session for stocks, the FTSE Eurofirst 300 is down 0.2 per cent, while US index futures suggest the S&P 500 will climb to 2,049, recovering two of the nine points lost at the start of the week.
The fragile risk appetite can be seen in the industrial commodities sector, where copper is slipping 0.6 per cent to $5,650 a tonne in a broadly downbeat base metals space, and Brent crude is giving back some of its recent sturdy gains, retreating 1.2 per cent to $57.66 a barrel.
Perceived havens are muddled. Gold is up $3 to $1,242 an ounce but the Japanese yen is several pips weaker against the dollar at Y118.71. Treasury prices are softer, pushing 10-year yields up 4 basis points to 1.98 per cent — hovering near a four-week high following last Friday's strong US jobs report.
In contrast, the 10-year German Bund, though up 1bp on the day, is yielding just 0.36 per cent. The meagre payout reflects the ultra-easy policies of the European Central Bank as it uses stimuli to battle deflation and weak growth, and also "flight to safety" flows as investors worry about Greece and Ukraine.
Investors are wary ahead of what could prove to be a crucial few days for both crises.
Greek finance minister Yanis Varoufakis will meet his 18 euro-area peers at an emergency gathering in Brussels on Wednesday to discuss Athens' desire to renegotiate the terms of its bailout.
Rhetoric suggests Greece and Germany are far apart in agreeing a deal, though some in the market seem hopeful a compromise may be reached. Greek three-year borrowing costs are down 101 basis points to 20.01 per cent.
The euro is little changed on the session at $1.1326, a little more than 2 cents above its 11-year low hit late last month.
The same day will see a summit in Minsk between the leaders of Ukraine, Russia, Germany and France, designed to halt an escalation in fighting between Kiev and Moscow-backed rebels.
If no progress is made, traders fear heightened tensions between Moscow and Washington — particularly should the US decide to arm Kiev. More sanctions against Russia may also hit the European economy.
The rouble is 0.1 per cent weaker at Rbs65.90 but the Micex equity index is adding 0.6 per cent.
Another issue making investors wary is the latest prices data out of China, which are adding to concerns about global deflationary pressures.
Consumer price inflation in China fell to a five-year low in January, undershooting expectations with a rise of 0.8 per cent year-on-year. Analysts' consensus forecasts were for a 1 per cent increase and the outcome increases fears that growth in China's economy continues to slow.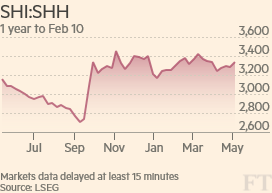 Meanwhile, Chinese factory gate prices fell for their 35th consecutive month, with the producer prices index down 4.3 per cent year-on-year in January, dragged down by falling energy and commodity prices.
Analysts offered different interpretations for the data, with some attributing it to a one-off timing impact. Julian Evans-Pritchard, China economist at Capital Economics, said the CPI reading was affected by the Chinese new year holiday falling in January last year and February this year.
Economists at ANZ agreed that the later timing of Chinese new year contributed to the falling CPI, but argued that deflation has become a "real risk" for China.
"PPI inflation suggested that the out-of-factory prices remained extraordinarily soft due to sluggish demand for manufactured goods," they said.
The Shanghai Composite index rose 1.5 per cent as traders bet that weak inflation allowed more room for Beijing to ease monetary policy.
Elsewhere in the region, Japan's Nikkei 225 contracted 0.3 per cent, though Nissan bucked the trend after Japan's second-largest carmaker raised its annual profit forecast on the back of surging car sales and a weaker yen.
Additional reporting by Jennifer Thompson in Hong Kong