©Dreamstime
Ebay is to spin off PayPal which accounts for as much as half of its $65bn stock market value, in a further unravelling of one of the few remaining successes from the dotcom era of internet companies.
The move marks a dramatic climbdown coming just months after the company rejected calls by the activist investor Carl Icahn to sell the online payments system.
The reversal is also a setback for some of Silicon Valley's best-known figures, who had rallied round eBay's chief executive John Donahoe in recent months denouncing Mr Icahn's campaign. Ebay founder and chairman Pierre Omidyar, PayPal and LinkedIn founder Reid Hoffman and venture capitalist Marc Andreessen all backed him.
Coming just three years after eBay sold Skype, the decision to spin off PayPal represents a final dismantling of the strategy pursued by Mr Donahoe's predecessor, Meg Whitman, to make eBay more than just an auction business.
Ebay bought PayPal for $1.5bn in 2002, and PayPal's founders and employees include some of the more illustrious names in technology, including the venture capitalist Peter Thiel and Elon Musk, founder of Tesla Motors and SpaceX. Some analysts believe the business could be worth more than $30bn.
Mr Donahoe, who is to step down as chief executive once the demerger is completed, defended the rethink saying circumstances had changed drastically in the payments business in the five months since the company struck a truce with Mr Icahn.
Apple's recent announcement of a payment system for the iPhone and Watch was the latest sign of the race to dominate mobile commerce, though such a move had been widely anticipated in the payments world for years.
"The pace of change is accelerating – I didn't think it was possible, to be honest, but it is," Mr Donahoe told the Financial Times. "We felt that given that change there were bigger opportunities and more diverging opportunities for eBay and PayPal."
Shares in eBay jumped 8 per cent on Tuesday in reaction to the news that it would list the faster-growing PayPal business as a publicly traded company when the split takes effect in 2015.
The latest move leaves eBay focused on the slow-growing auction and marketplace business on which it was founded in 1995. It had tried to use the acquisitions of PayPal in 2002 and Skype in 2005 to build a broader range of services around its online community, in part to make it easier for people to carry out transactions with each other.
However, both PayPal and Skype picked up more custom via users outside eBay. This persuaded the company to spin them off as standalone businesses.
Mr Donahoe said he had called Mr Icahn the night before the announcement to alert him to the board's decision. The hedge fund magnate had launched a proxy fight nine months ago to push the company to spin off its payments business. eBay's board appeared to have fought him off and the two sides had announced a deal in April, with Mr Icahn gaining one seat on eBay's board.
"I think he was pleased," said Mr Donahoe.
Mr Icahn released a statement Tuesday praising the move and called for PayPal to look to consolidate the payments industry further, either through acquisitions or a merger, to fight off competition from newcomers.
"The sooner these consolidations take place, the better. As one of the largest shareholders of eBay, I intend to have discussions in the near future with John Donahoe," he wrote.
©Bloomberg
Devin Wenig, president of eBay Marketplaces, will become CEO of the new eBay. Dan Schulman, who joined the company this year from American Express, was appointed president and chief executive-designate of the standalone PayPal.
The move by eBay's board comes as the company's shares lagged behind the performance of the broader technology market. Until the close of trade on Monday, shares in eBay had dropped 5.6 per cent over the past year, while the Nasdaq – home to many of the world's largest technology companies – had gained 19 per cent.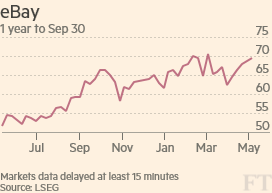 "I think quite honestly the Icahn moves made them really revisit it," said Robert Peck, an analyst at SunTrust Robinson Humphrey, a brokerage. "When they are turning around a slowing ecommerce business and facing challenges on the PayPal side with new competition it would be a big endeavour, but the longer PayPal sat within eBay the harder it was going to be."
Mr Icahn had argued a split would end conflicts of interest between the companies, allowing each to focus on its own strengths, which would generate more value for shareholders. Though his departure as chief executive caught some by surprise, Mr Donahoe has said he expects to be on the board of one or both companies after the split.
Goldman Sachs and Allen and Co advised eBay.
PayPal's chief executive designate

Dan Schulman, PayPal's chief executive-designate, joined the company this year from American Express, where he led the credit card group's strategy to launch new digital payment services, writes Robert Cookson.
©Reuters
The 56-year-old previously held the top jobs at Virgin Mobile USA, the telecoms group, and Priceline, the owner of websites for booking cars, hotels and flights.
He began his career at AT&T, where he rose through the ranks over 18 years to become the youngest person to serve in the telecom group's operations group, its most senior executive body.
After joining Priceline in 1999, when it was just a start-up, Mr Schulman helped the company more than double its revenues. But the company fired him within two years as it struggled to turn a profit.
In 2001 he helped found Virgin Mobile USA along with Sir Richard Branson, the British entrepreneur. During his eight years at the company, it evolved from one of the first US prepaid cell phone providers into a public company that was acquired by Sprint Nextel in 2009 for $688m.
Timeline: The rise of PayPal

1998: Peter Thiel and Max Levchin launch Fieldlink, later renamed Cofinity, which develops software to allow owners of PalmPilots and other PDAs to store encrypted information on their devices, creating the first digital wallet.
1999: PayPal first appears as an online demo that allows people to email payments in US dollars.
2000: Reaches 1m users after changing its payment systems to enable eBay payments. Cofinity name disappears after merger with Elon Musk's X.com. Elon Musk becomes chairman and chief executive.
2001: X.com changes its name to PayPal.
2002: eBay buys PayPal for $1.5bn, just eight months after the online payment provider's initial public offering. It extends its service to allow payments in euros and British pounds.
2004: PayPal becomes a payment option on the UK site of eBay, resulting in a 300 per cent jump in PayPal revenues to $1.4bn
2006: Expands internationally, adding 10 currencies including the Swiss franc and Singapore dollar.
2007: Granted an EU banking licence.
2008: eBay acquires PayPal's rival Bill Me Later for just under $1bn, including $820m in cash.
2009: PayPal adds five new currencies, taking the number of currencies in which it supports payments to 24.
2010: PayPal launches apps for the iPhone and Android-powered devices.
2011: PayPal mobile payments hit $4bn.
2012: Mobile payments more than treble year-on-year, to $14bn.
2013: Mobile payments almost double again year-on-year, to $27bn.
2014: eBay announces plans to spin off PayPal into a separate business in 2015.
Source: PayPal