Buy: Telford Homes (TEF)
As well as explosive growth, high earnings visibility and a big dividend increase, the shares are trading more cheaply than most of its rivals, writes Jonas Crosland.
With a forward order book stretching out four years, London-based housebuilder Telford Homes now has a development pipeline worth more than £875m.
That is up 40 per cent from the previous year, and serves as an illustration of the insatiable demand for apartments and houses close to central London.
Further evidence came with news that 94 per cent of apartments in its Stratford Central development – not expected to complete until March 2018 – were sold off-plan within four weeks.
Such strong demand has transformed the financial metrics. Operating margins have nearly doubled to 17.1 per cent, and gearing has fallen from 47.3 per cent to zero. Pre-tax profits have risen sixfold in the last two years and are expected to more than double again over the next four.
Of the current year's targeted output, 98 per cent has already been sold, with 35 per cent sold to owner occupiers, a third to UK-based investors and 32 per cent to overseas investors.
The average open market selling price rose from £353,000 to £400,000.
——————————————-
Sell: SABMiller (SAB)
With trading conditions expected to remain broadly unchanged and input costs likely to rise, the share price looks too demanding, writes Julia Bradshaw.
Currency concerns, excise duty increases and regulatory change helped drain profits at brewer SABMiller last year. But the underlying performance was reasonably robust as faster-growing emerging markets offset declines in Europe and the US.
Net producer revenue, which excludes excise and other taxes, rose 3 per cent year-on-year. Combined with cost efficiencies, this boosted the group's trading profit by 7 per cent. Latin America, Africa and Asia Pacific were the main engines of growth, reflecting volume increases, higher pricing and a better product mix.
Africa was particularly strong and profits there jumped 12 per cent, due to higher volumes and market share gains. Sales in China, where the growing middle classes are increasingly trading up, surged by 17 per cent. However, profit in Europe dipped 15 per cent, and currency problems were particularly acute in South Africa, where the rand depreciated significantly against the US dollar.
Management announced a new cost-cutting programme that should deliver $500m (£298m) of savings a year by 2018. That will involve restructuring costs of $350m, $59m of which was incurred last year.
——————————————-
Hold: De La Rue (DLR)
Overcapacity looks likely to remain a problem, but the potential for further cost savings and a generous dividend yield make the shares worth holding, writes Kirsty Green.
Printing money might sound like a road to riches, but De La Rue has struggled of late. Overcapacity and pricing pressures in the banknote paper market forced the world's largest banknote printer to issue a profit warning in October. De La Rue said it would no longer meet its 2013-14 operating profit target of £100m, sending the shares into a tailspin.
These numbers brought some respite. The shares rose 9 per cent in morning trading when De La Rue announced it had delivered slightly above its revised operating profit target of £90m.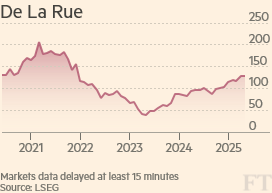 In the final year of its three-year improvement plan, the group achieved a further £20m of cost savings, taking the annualised run rate to £40m. That has driven operating profit to £90.5m, from £40m three years ago.
Management tell us they expect to deliver further operating efficiencies this year, but did not want to put a figure on likely savings. A decision by the Bank of England as to who will print its next generation of banknotes, likely by the year-end, is the potential wild card.
——————————————-
Stock screen: Bags of US value
This week's screen, which looks at the US market, was devised by accountancy professor Joseph Piotroski, writes Algy Hall. Based on the Russell 3000 constituents, the screen produced a portfolio of 33 stocks, the smallest of which has a market cap of $105m.
Last year's US Piotroski portfolio of 16 stocks underperformed the market. While the 14.3 per cent total return the stocks delivered is not to be sniffed at, it is disappointingly inferior to the 18.1 per cent achieved by the Russell 3000.
Conventional wisdom suggests that market-beating returns through screening are only achieved over the long term by sticking doggedly to a chosen strategy. Indeed, the 2012 US Piotroski screen boasted a return of 62 per cent compared with 27 per cent from the market.
Investors who had stuck with that May 2012 portfolio rather than switching to the 2013 portfolio would now be sitting on a return of 111 per cent compared with the 83 per cent cumulative return achieved by switching. The Russell 3000 returned 48 per cent over the same period. Mr Piotroski's screen is based on using historic fundamentals to predict whether cheap stocks, identified by low price-to-book ratios, are dogs or recovery plays.
There are nine fundamental tests that Mr Piotroski applies to "cheap" stocks – those with price-to-book-values among the lowest quarter of the market. The tests look at profits, cash flows and the balance sheet.
The current ratio is a simple and somewhat crude way of measuring whether a company is well place to pay its upcoming bills. The ratio is calculated by simply dividing current assets (assets that should be fairly readily available to pay upcoming bills) by current liabilities (upcoming bills). The rule of thumb is that a current ratio of less than one is a worry and anything more than one is reassuring.
Mr Piotroski does not care what the current ratio actually stands at, but he does want to see it is moving in the right direction.
To reinforce this focus on improving fundamentals, he also wants an indicator that this is happening without the need for outside finances. Two further tests are that shares in issue have not risen in the past 12 months – no money is coming in from selling new shares to the public – and that gearing has fallen – new debts are not being taken on to pay upcoming bills.
The only "per share" measure that the screen bothers itself with is the initial assessment of value based on the price-to-book ratio. Companies must achieve at least eight of nine criteria, which include positive and growing post-tax profits (excluding exceptional items), rising gross margins and improving capital turn (turnover as a proportion of net assets).
The screen's focus on book value means it is prone to highlight certain kinds of companies that have more capital intensive operations and rely on assets to generate profits.
Of the 33 companies that meet Piotroski's criteria this year, here are three of the larger stocks: Loews Corporation, which has interests ranging from insurance, to drill rigs and hotels; Consolidated Edison, one of the biggest utilities in the US with operations focused in and around New York; and insurance and asset management business Lincoln National.