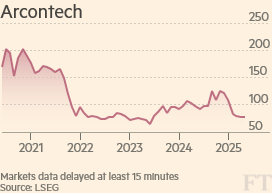 Directors at Arcontech Group were buying shares in June just before a trading embargo imposed ahead of annual results.
Dealers assumed that the show of confidence by senior directors Richard Last and Matthew Jeffs might herald forecast-busting results in August, so news of continued losses disappointed and the shares fell back to their June levels – as low as 10p – in the weeks that followed.
The market data business has increased sales this year and continued to invest.
Despite the volatility, shareholders have doubled their money this year as the stock was trading above 13p last Wednesday, following further investment by Mr Last.
He added 51m shares to increase his stake by a third, while finance director Michael Levy held a more modest stake – but followed up on Monday by trebling it. There were also two buyers at rival software group Micro Focus whose shares have added about 25 per cent this year. The gains put chairman Kevin Loosemore ahead on his £154,000 investment last December and he followed up in June as shares recovered from a bout of weakness.
Last Friday he bought for a third time, joining finance director Michael Phillips who increased his stake via options and invested a further £13,000 on market.
Sector peer SDL has an office presence in many countries but has found trading conditions tough this year, prompting the board to lower its profit expectations again for the current year.
The shares fell to 252p following the October announcement, but have been trading ahead this month. Mark Lancaster made his largest purchase to date on Monday to increase his stake by 75 per cent. He banked profits on five occasions between 2003 and 2010 as the shares rose.
Shares in Carpetright have dipped since founder Lord Harris sold a £2.7m stake in October. The disposal left 97 per cent of his stake intact but with dealers fretting over a high stock rating and poor trading conditions in Europe, the price fell as low as 515p this month – off 25 per cent for the year. Sentiment did not improve on Tuesday when Lord Harris sold again. He was joined by his son, commercial director Martin Harris, who parted with a smaller stake last week.
Directors' deals – December 18, 2013
Company name
Sector
Deal date
Amount
Value (£)
No of dir
Holding
 BUY
32Red
Travel & Leisure
12 Dec 13
75,000
50,625
1
Not Reported
Amati VCT
Equity Inv.
11 Dec 13
55,855
42,126
2
321,787
Arbuthnot Banking Group
Financial Serv.
17 Dec 13
3,000
37,500
1
8,190,901
Arcontech Group
Software & Comp
13 Dec 13
55,000,000
60,500
2
203,339,595
Arsenal Holdings
Travel & Leisure
12 Dec 13
13
199,000
1
41,596
Barr (A G)
Beverages
13 Dec 13
50,000
282,375
1
19,961
Bioquell
Healthcare
12 Dec 13
180,000
243,000
2
1,113,113
BP
Oil & Gas Prod
17 Dec 13
10,690
50,011
1
22,320
Centaur Media
Media
11 Dec 13
90,000
49,500
1
90,000
Digital Barriers
Support Services
13 Dec 13
282,712
455,167
3
5,603,344
Genesis Emerging Markets Fund Ltd
Equity Inv.
09 Dec 13
7,690
39,411
1
7,690
Iofina
Oil & Gas Prod
17 Dec 13
150,000
150,000
1
1,400,000
Kazakhmys
Mining
17 Dec 13
27,000
52,969
2
32,000
London Mining Plc
Industrial Metal
17 Dec 13
107,227
108,997
3
266,605
Macau Property Opportunities Fund
Real Estate
12 Dec 13
250,000
506,250
1
4,650,000
Man Group
Financial Serv.
18 Dec 13
60,947
49,641
1
Not Reported
Medgenics Inc
Pharma & Biotech
13 Dec 13
24,500
81,564
2
130,500
Micro Focus International
Software & Comp
11 Dec 13
9,912
77,677
2
343,847
Mondi Plc
Forestry & Paper
10 Dec 13
5,000
48,646
1
Not Reported
Phoenix Group Holdings
Life Insurance
11 Dec 13
7,123
48,929
2
7,123
Planet Payment Inc
Support Services
13 Dec 13
75,000
101,681
1
580,000
Reckitt Benckiser Group
Household Goods
12 Dec 13
13,629
629,623
1
13,629
Rexam
Gen. Industrials
16 Dec 13
10,000
48,728
1
47,000
SDL
Software & Comp
16 Dec 13
515,350
1,546,565
1
1,201,994
Soco International
Oil & Gas Prod
12 Dec 13
50,000
192,485
1
9,058,820
Spirent Communications
Technol Hardware
11 Dec 13
50,000
50,395
1
180,481
Symphony International Holdings Ltd
Financial Serv.
12 Dec 13
250,000
112,702
1
51,614,062
Unilever Plc
Food Producers
11 Dec 13
2,099
50,880
1
212,032
 SELL
Carpetright
Gen. Retailers
17 Dec 13
2,500,000
13,240,000
2
16,257,816
CLS Holdings
Real Estate
17 Dec 13
20,000
244,000
1
82,548
Lancashire Holdings Limited
Insurance
11 Dec 13
40,000
307,800
1
0
Local Shopping Reit
REITs
11 Dec 13
2,400,000
576,000
1
5,255,171
M.P. Evans Group
Food Producers
13 Dec 13
12,000
56,640
1
435,065
Mears Group
Support Services
13 Dec 13
22,420
102,473
1
50,000
MoneySupermarket.com
Media
16 Dec 13
500,000
900,000
1
465,362
Optimal Payments
Support Services
12 Dec 13
25,000
82,750
1
100,463
Pearson
Media
16 Dec 13
38,751
497,721
1
397,017
Peel Hotels
Travel & Leisure
11 Dec 13
300,000
228,030
1
50,000
Whitbread
Travel & Leisure
16 Dec 13
10,850
384,587
1
20,943
 Value cut-off £35,000; Source: Directorsdeals.com