Buy: Mitchells and Butlers (MAB)
If economic recovery spreads to the regions from London and the Southeast – which currently generate 45 per cent of sales – then M&B will be well placed to benefit and the shares are modestly rated on a price/earnings ratio of 11.6, writes Julian Hofmann.
A mix of stable operating revenues and reduced interest charges kept adjusted operating profits ticking up by 5.1 per cent for the year. The pub company cut capital investment by £19m, too, but it looks like a Christmas season that falls in the optimal midweek slot is the key to building short-term momentum.
M&B's estate is increasingly weighted towards food and like-for-like food sales increased by 0.8 per cent, reflecting price increases rather than volume growth.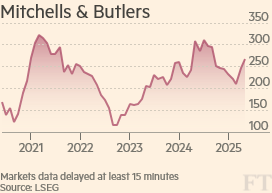 "Wet" sales continued their long-term downward trend with a 0.2 per cent drop, although excellent weather in the second half helped moderate the fall.
Deutsche Bank forecasts adjusted pre-tax profit of £191m for 2014, giving adjusted earnings per share of 35.8p, up from £184m and 34.7p this time.
——————————————-
Sell: SAB Miller (SAB)
SABMiller seems well-placed to benefit from global consumption growth, although earnings growth will be held back by currency weakness and rising raw material costs, writes Julia Bradshaw. Yet the shares are highly rated given the risks.
Declines in the South African rand, Colombian peso and Peruvian nuevo sol held back growth for beverage giant SABMiller, which makes about four-fifths of its profits in emerging markets.
The maker of Grolsch and Peroni saw decent progress across all markets apart from Europe and North America, where lager volumes fell, leaving underlying lager volumes just 1 per cent higher. The picture in emerging markets was much rosier. Profit in Latin America grew by 10 per cent to $972m, helped by favourable pricing, higher volumes and a good performance from premium brands. Thirst for beer continued in Africa, where profit was up 16 per cent to $408m, while Asia Pacific also had another good year, with profits 12 per cent higher at $540m.
Broker Numis Securities expects pre-tax profit of $5.1bn for the full year, giving earnings per share of 244¢ (up from $4.7bn and 237¢ in 2013).
——————————————-
Hold: Compass (CPG)
©Thomas Bowles
Profit margins are improving and there is a huge pipeline of business, but a forward price/earnings ratio in excess of 18 – near a 10-year high – looks up with events, writes Lee Wild.
Feeding hungry Americans, and a growing appetite for its services in emerging markets, helped boost organic revenue at catering heavyweight Compass by over 4 per cent last year. Operating profit before hefty write-downs and restructuring costs rose 8 per cent to £1.27bn, and a larger than expected £500m share buy-back for 2014 pushed the shares to a record high.
That's the reward for getting the operating profit margin above 7 per cent for the first time. North America, which now accounts for over 46 per cent of sales, grew organic revenue by 8 per cent, while emerging markets grew 7 per cent.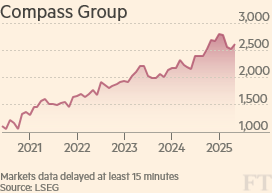 Even in Europe and Japan, operating margins grew by 60 basis points as cost-cutting offset another fall in like-for-like volumes.
Broker Numis Securities expects adjusted pre-tax profit of £1.26bn in 2014, giving adjusted earnings per share of 51.9p (from £1.19bn/47.7p in 2013).
——————————————-
Sector focus: tech is back with a bang
London's so-called Tech City has been getting a lot of favourable press recently, writes Matthew Allan. There's a real buzz around the epicentre in gritty Shoreditch, reminiscent perhaps of the heady optimism that fuelled the dotcom bubble in the late 1990s.
But is the current surge in merger and acquisition activity, number of initial public offerings (IPOs) and rocketing share prices a sign of future growth, or a warning cry that the sector is beginning to overheat?
Already this year, the Aim technology index has risen by nearly half and has almost doubled in the past two years. It recently breached a level last seen at the back end of the internet boom, in December 2001. Nor are the gains confined to tiddlers; the FTSE 350 technology index is up four-fold since the darkest days of the financial crisis at the end of 2008.
Recent takeover bids for Andor Technology, a high-tech camera maker, and Delcam, which develops advanced software for the manufacturing industry, suggest better times ahead. Andor's suitor, Oxford Instruments, has made an indicative offer of 500p per share in cash. Sales are recovering and Andor has negotiated hard, yet Oxford clearly sees value in the business even at these levels.
Delcam, meanwhile, is being bought by US-based rival Autodesk for £172.5m in cash, a deserved premium as record demand for its software translates into soaring revenue and profit.
There has been an abundance of smaller M&A activity among London-listed tech stocks during these past few months, too, most recently at managed service provider Redcentric, which said this week it will pay £65m for peer InTechnology. The deal, classified as a reverse takeover, will be funded largely by institutional money.
Tech Hub

Latest FT news and views from the world of technology
It is the IPO market, however, that has really captured the imagination of investors this year as companies and speculators alike capitalise on the robust capital market environment. Shares in microblogging site Twitter soared as much as 70 per cent on their first day of trading after the loss-making company raised $1.8bn (£1.1bn) this month. And more than a few eyebrows were raised when Evan Spiegel, the 23-year-old founder of photo messaging app firm Snapchat, turned down a $3bn offer from Facebook.
London, however, is popular, too. Servelec, a provider of software and services to the healthcare and power industries, is set to complete the largest fundraising for a UK-listed software company since 2000 when its shares list on the main market on December 2. A heavily oversubscribed IPO – also billed as the largest UK tech IPO by market value since March 2010 – will raise £122m.
Servelec isn't an isolated example, either. Another 18 technology companies have tapped the London market so far this year, double the number in 2012 and 2011. "The market is improving such a lot now, there is a completely different appetite for raising money," notes Sam Smith, chief executive of broker finnCap. "The small-cap environment is definitely seen as less risky than it has been for a long while. There's so much interest in initial public offerings… it's now a viable option for a lot of businesses."
It certainly helps that shares in many of the tech floats have rocketed following their debut. In 2013 alone, you would have made an average gain of nearly 17 per cent had you invested in all 18 tech IPOs on their first day of trading, based on exclusive research from Investors Chronicle and S&P Capital IQ.